The Winter 2012-2013 Tidings covers the history of American Canyon and Shipyard Acres. This is an excerpt of an article written by one of our long-time volunteers, Pat Renait. To get your copy of Tidings, become a member today!
I was riding in the back seat of our old green Nash the first time I remember hearing the words "Shipyard Acres." We had driven past some concrete slabs lying in a field next to the road, and I had asked how they got there. My parents explained that the concrete was all that was left of a housing development that used to be there…
Napa's population increased from 7,740 in 1940 to 13,570 by 1950 (Weber, 2001). During those years 71 subdivisions (nearly 2,000 lots) were constructed in our agricultural community to accommodate this growth (Page & Turnbull, Inc., 2009). Families across America were facing those same difficulties. There were 2,924,860 live births registered in the United States in 1943, the year of my birth. Soldiers returning from the war found there were not enough jobs or houses available at home…
The federal government recognized the need to create housing close enough to Basalt to attract workers for that shipyard. Under the direction of the Navy, Basalt built Shipyard Acres, a hastily constructed development of two- and three-bedroom, one-bath houses adjacent to the farm and orchards of the Napa State Hospital along the Napa-Vallejo Highway. Men and women came from across America in 1943 to live there and work at Basalt.
Shipyard Acres was a complete community of just under 400 box-shaped homes available at a cost of no more than $38 a month (Page & Turnbull, Inc., 2009). The plywood houses were factory-assembled and nailed together onsite. Some stood alone, some were duplexes, and none had fences. Wartime gas rationing did not end until 1946 so the Shipyard Acres administration building was used for a variety of community social activities (Ketteringham, 1961). Residents could have telephones installed. For those who could not afford this luxury there were public phone booths spaced along the streets. There were no garages or carports. With the exception of Shurtleff Avenue each of the streets were named after a Pacific island: Pacific Circle, Wake, Coral and Midway…
The families kept coming until in 1948 when there were 1,400 residents living in Shipyard Acres. All of them had gas heaters in their homes. Their kitchen-dining areas included large pantries that came with stationary sensing tubs, the latest thing on the market to let a housewife know when water was about to overflow. Space was provided for a washing machine, the kind that required you to feed your wet clothes through a wringer to squeeze the water out before hanging them from the community clothesline. Families planted gardens. Children ran freely through the neighborhood playing outdoors all day long…
During the war years it seemed everyone had a nickname, a reflection of the bond felt by an entire country working together toward a common goal. My father was "Des," my mother was "Dode." The term "Rosie the Riveter" was an affectionate and proud nickname given to the women who stepped in to fill jobs left behind by soldiers who had gone to fight in the war. My grandfather, too old to serve in the military, filled one of those vacant positions. His nickname was "High Yellow Freddy" after the color and location of the crane he operated at Mare Island. Grandpa rode to work on the bus provided by the government for Napa residents who worked at that shipyard. His commute companion was Collette, a friend of the family who also worked as a crane operator. Billy Grimoldi, another "Rosie" who lived on Wake Street until 1952, began working in the Basalt sheet metal shop "bucking rivets" for 95 cents an hour and the Shipyard Acres grocery store for 50 cents an hour when she was 18 years old (Stanley, 2006; Courtney, 2002).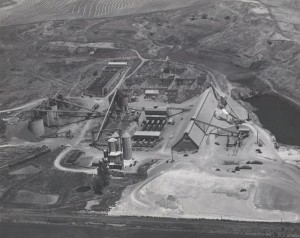 The Basalt Shipyard operated three shifts a day, seven days a week, in their rush to build vessels for the Navy (Courtney, 2002). Shipyard Acres residents working in Basalt's Steel Division built six Bolster-class salvage vessels, 16 Diver-class salvage vessels, 115 barges, a tug, two coastal tankers, nine coastal freighters and 32 rescue ships between 1940 and 1945. One of the salvage vessels, the USS Clamp, was launched at Napa in 1942, commissioned in 1943, and received four battle stars for WWII service (Colton, 2011).
While gathering information for this article I decided to locate the field where I first saw those concrete slabs. Finding it was a challenge. Most of the houses were dismantled in the mid-1950s. Some of them were moved to Cuttings Wharf where they became controversial rental units because they did not comply with current building codes. They were finally torn down in January 2012; Kenneth Moore, the owner, decided to have them torn down rather than paying for repairs. What was formerly the access road into Shipyard Acres became the access road into Napa Valley Memorial Gardens & Mortuary in 1963. In 1993 the cemetery and mortuary was sold to Chapel of the Chimes Corporation. Then, in 2003, ownership passed to Rossi Development for use as an industrial park and the concrete slabs were removed.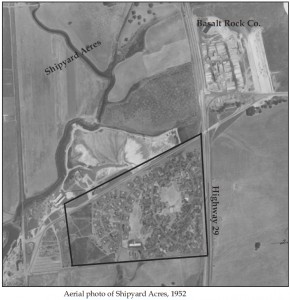 Using an aerial map as a guide, I was able to draw a boundary line of the development from the Napa-Vallejo Highway down Basalt Road toward the river, south to Kaiser Road, and then east back to the highway. These roads are all that is left now to remind us of the residents of Shipyard Acres who joined together to do their part in the war effort so many years ago.
Bibliography
Colton, T. (2011). Basalt Rock Company, Napa CA. Retrieved from http://shipbuildinghistory.com/.
Courtney, K. (2002, November 12). Shipyard Acres gone, homefront memories remain. Napa Valley Register. Retrieved from http://napavalleyregister.com.
Ketteringham, W. J. (1961). The settlement geography of the Napa Valley. Published master's thesis. Stanford University.
Page & Turnbull, Inc. (2009). City-wide historic context statement (final draft). San Francisco: Page & Turnbull, Inc.
Stanley, P. (2006, April 1). Napa, American Canyon gre3w up with communities of Mare Island workers. Napa Valley Register. Retrieved from http://napavalleyregister.com.
Weber, L. (2001). Roots of the present: Napa Valley 1900-1950. St. Helena, Calif.: Wine Ventures Publishing.