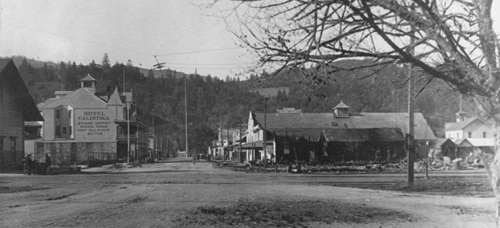 As part of our First Annual Napa Valley Lodging Industry Hall of Fame Ceremony, we have compiled a series of biographies of the historic inductees. Local historian Tom Spaulding has contributed the fourth of five articles.
Long-time Calistoga innkeeper and postmaster Owen Kenny was born in County Galway, Ireland to Thomas Kenny (1841-1899) and Mary (Ward) Kenny (1842-1879) on May 6, 1873. He immigrated to the United States in the early 1890s and settled in San Francisco, where he married Catherine Walsh (1871-1898). They had a son together, but she died just one week after the child's birth. In 1907, Kenny again married, this time to Emma G. (Hughes) Carter (1868-1960), who had also been previously married. They had two children together, a boy and a girl.
Kenny started his career in the hotel industry in San Francisco as a porter at the Occidental by 1897. He stayed with the Occidental Hotel until its destruction in the 1906 earthquake.
By 1908, he was managing the Grand Central Hotel at Tenth and Market Streets, the first hotel built in the city after the earthquake. In 1911 he was managing the Hotel Dale at the corner of Market and Turk. In October of that year, Kenny made a deal to buy, and took over operations of, the "well-known Hotel Calistoga, the finest structure of the kind in the county."[1]
Once the family had settled in Calistoga, Kenny expanded his ambitions. In 1915, the "Well-Known and Popular Hotel Man" was appointed postmaster for Calistoga, a position he would hold under Democratic presidential administrations from 1915-1922 and 1933-1943.[2] One of the leaders of the local Democratic Party, Kenny served on the city council for 12 years, and was mayor of Calistoga from 1928-1932. In 1932, Kenny mounted a campaign for the state senate, ultimately losing to his Republican opponent, Frank L. Gordon.
All the while he ran the hotel, which advertised "Hot sulphur baths adjoining rooms, large swimming tank and unexcelled mud baths." Stages left the hotel daily for the many hot spring resorts in Lake County, and Kenny claimed, "Everybody takes lunch with me before starting."[3]
Kenny's proprietorship of the hotel spanned the Prohibition years, and Kenny did run afoul of the law when the hotel was raided in 1921. He and an employee, John Carroll, were both brought before the court. But the cases against the politically-influential Kenny and his employee were dismissed, as the government was unable to produce any witnesses to testify that Kenny had sold liquor, despite being granted several continuances for that purpose.
In 1940, Kenny turned over the day-to-day operation of the hotel to John and Mabel Mingus, while retaining ownership and continuing to live there. In 1943, Kenny retired from his position as postmaster. In 1945, Kenny sold the hotel, and he and his wife went to live with their son Arthur H. Kenny (1908-1983), first in San Leandro, and then in Vallejo. In June of 1947, Kenny fulfilled a long-held desire to visit Ireland.
Owen Kenny died in his son's home in Vallejo on March 18, 1949 at the age of 75, and his passing made front-page headlines in the Vallejo Times Herald the next day. He is buried in Holy Cross Catholic Cemetery in Coloma.
---
[1] Weekly Calistogan. (1911, October 13). "Hotel Changes Hands."
[2] Weekly Calistogan. (1915, February 12). "Owen Kenny to Be Postmaster."
[3] San Francisco Call. (1913, July 22). "Hotel Calistoga."
Additional Sources:
Crocker-Langley San Francisco Directory. (1897). H.S. Crocker Co.: San Francisco.
San Francisco Call. (1908, November 8). "Stop at the Grand Central Hotel."
Vallejo Times Herald. (1949, March 19). "Owen Kenny, 75, Pioneer Leader in Napa Area Dead."
Weekly Calistogan. (1921, August 19.) "Liquor Cases Up Again This Week."
Weekly Calistogan. (1940, October 4). "Mr. and Mrs. J. Mingus Take Over Local Hotel."