by Marie Bowen
Created in 1850, the year of California statehood, Napa County is one of the state's original 27 counties. By the 1860 census, the county had four townships, or units of local government:  Napa (Napa City); Yount (Yountville, Monticello, and Berryessa, Chiles, Conn, and Gordon Valleys); Hot Springs (Calistoga and St. Helena); and Clear Lake (including Knoxville and Wardner's). Clear Lake?  How did that happen?
California's county maps between 1850 and 1855 show a gradual, legislated expansion of Napa County, its northern boundary extending far into what is now Lake County to encompass Clear Lake and areas well to the north, east, and west. On May 20, 1861, the state legislature combined portions of Napa, Mendocino, and Colusa counties to form Lake County. After a few more small adjustments with Lake and Sonoma Counties, including the 1869 return of Knoxville and Wardner's (comprising Knox Township as of 1873), Napa County shrank back to its current boundaries.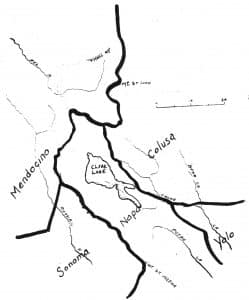 So, what does this have to do with Uncle Sam Mountain?  Going back to the 1860 Federal Census, we find that Napa County's Clear Lake Township (created in 1857) had 272 households, enumerated at five post office areas:  Lower Lake, Big Valley, Upper Lake, Coyote, and Uncle Sam (established 1858), where 72 of the households resided. It is thought that the Uncle Sam community existed as early as the 1840s, its residents applying the same name to the nearby Mt. Konocti (or Knocti), so designated by early Pomo residents of the area. The volcanic soil on and surrounding the mountain would have been as attractive to those settlers, mostly farmers, as it is to today's vintners.
After Lake County was established in 1861, Uncle Sam was referred to as Kelsey Creek or Kelsey, and in 1882 Uncle Sam Post Office became Kelseyville Post Office, reflecting the official renaming of the town in memory of Andrew Kelsey on October 4 of that year. Uncle Sam Precinct is found on the 1892 Official Map of Lake County, as is the Uncle Sam School District, but by 1907, Uncle Sam School had become Kelseyville Grammar School and the name 'Uncle Sam Mountain' was drifting into history. As an online National Geographic site notes (without an identified source), "Though European settlers attempted to change Mt. Konocti's name to Uncle Sam Mountain in 1854, the original name has endured."
---
Reference List:
California State Association of Counties. 'The Creation of Our 58 Counties.'  Online, 2014
Lake County California USGenWeb Project. Online, April 2015
Menefee, C. A. HISTORICAL AND DESCRIPTIVE SKETCHBOOK OF NAPA, SONOMA, LAKE AND MENDOCINO. Napa:  Reporter Publishing House, 1873
Morgan Lane Real Estate. 'About Kelseyville, Lake County, California.'  Online, 2016
National Geographic. 'California's Redwood Coast: Paradise Untamed.'  Online, 2016
Official Map of Lake County, 1892
Palmer, Lyman L. HISTORY OF NAPA & LAKE COUNTIES, CALIFORNIA. San Francisco: Slocum, Bowen & Co., 1881