Introduction
California's Napa Valley is one of the most famous wine-growing regions in the world. Its 475 wineries typically draw almost four million visitors a year and contribute over $34 billion annually to the US economy. The wine industry in this region from 1870 through 1900 was built predominantly using Chinese immigrant labor. These laborers were unable to become citizens and were largely confined to local Chinatowns that were mostly collections of poorly built structures in less desirable parts of town. The Chinese powered a significant portion of the Napa Valley economy and worked not only in vineyards and wineries, but in quicksilver mines, on farms, for local railroads, as shopkeepers, as hired laborers, and as domestic help. Despite their essential role in Napa Valley society, the Chinese were hated, feared, and threatened by many locals, especially white men who felt well-paying jobs were taken away from them. Once most of the Chinese laborers were finally driven out of the region around 1900, their homes and businesses were razed and most of their contributions, even their very presence, was largely forgotten.
Arrival and Departure
Opium Wars, the Taiping Rebellion, increasing population, land scarcity, and unrest due to local uprisings all contributed to a mass emigration movement of laborers from China in the latter half of mid-19th century. Between 1860 and 1880, the Chinese population in Napa County rose from about twenty to almost one thousand before dropping rapidly in subsequent decades. Chinese labor was critical to the early economic success of the Napa Valley in a variety of industries. Yet anti-Chinese sentiment and restrictive immigration policies at the local, state, and federal level – including the notorious 1882 Chinese Exclusion Act – eventually drove most of the Chinese workers out of the Napa Valley by the early 1900s.
Rural Economic Contributions
Chinese laborers made up the vast majority of vineyard and winery workers throughout the Napa Valley in the late 19th century and were indispensable in the development of the early wine industry. By the 1880s, they comprised up to 80% of the labor force working in vineyards. In addition to working in the vineyards, Chinese laborers worked in wineries and dug wine caves, some of which are still in use today. Chinese laborers also worked on hop farms in St. Helena, mined quicksilver (mercury) in the foothills of Mt. St. Helena, built rock walls and fences, constructed roads and bridges, worked on farms, and built tracks for the Napa Valley Railroad that enabled economic success for businesses up and down the valley.
Urban Economic Contributions
In the late 19th century, Napa was nearly as famous as a center of leather production as it was for its wine production. Sawyer Tannery (which patented "Nappa Leather" still in use today) relied almost exclusively on Chinese labor until the mid 1880s. Many middle-class families in Napa, St. Helena, and Calistoga had Chinese domestic servants and cooks. Chinese also dominated the local laundry industry. Sam Kee established his laundry in Napa in 1879 and had six Chinese employees. He successfully challenged city ordinances prohibiting Chinese-owned laundries and operated his shop successfully in downtown Napa for decades.
Chinatowns
Every town in the Napa Valley had a region called Chinatown. Napa's Chinatown, established in the 1850s, was located on a small peninsula that was formed at the intersection of Napa Creek as it flowed into the Napa River. It included houses, a general store, a temple, barber shop, gambling houses, and an opium den. Many of its buildings were built on stilts due to frequent flooding and the shops were frequented by Chinese and white residents alike.
Chinatown was razed in 1927 to make way for a yacht harbor, which was never constructed. St. Helena's large Chinatown was located at the south end of town and was the first thing travelers saw as they traveled up valley. In 1886, an anti-Chinese organization purchased the land upon which St. Helena's Chinatown resided and, after a twenty-five-year legal battle, finally succeeded in demolishing the few remaining Chinese homes and buildings.  Calistoga's Chinatown was established next to the train depot downtown because many Chinese workers were employed by the railroad. By 1914, almost all buildings were vacant, and it was purchased and then leveled to make way for other uses.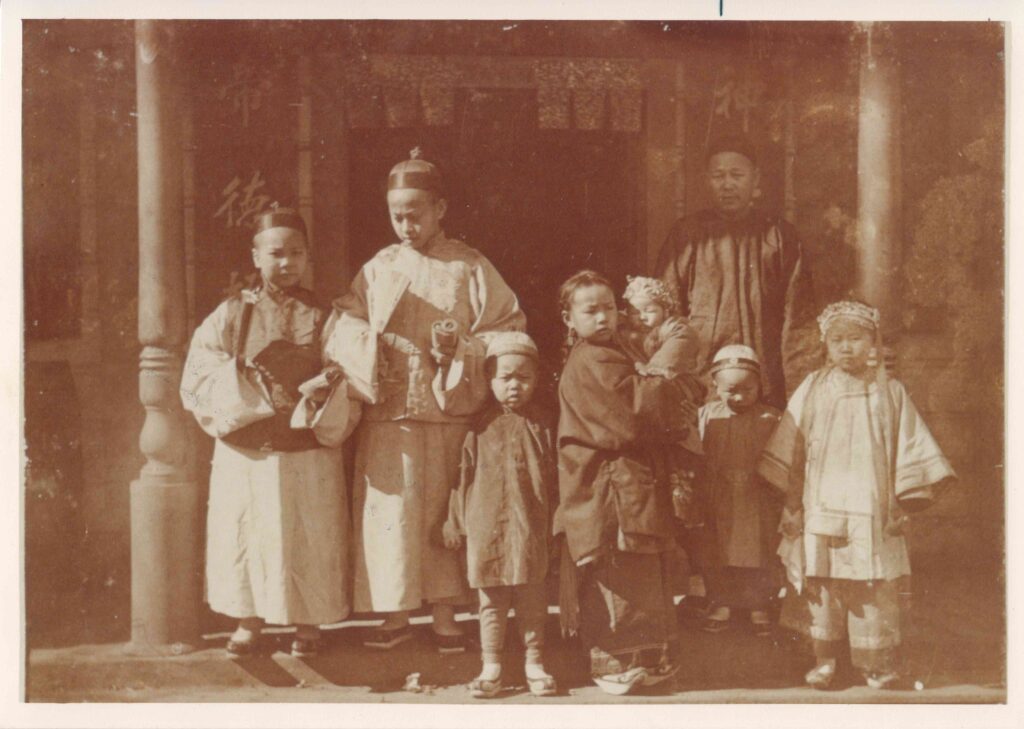 Community
The Chinese in Napa were connected to Chinese immigrants all over the west by their language, customs, and clan affiliations. All Chinese immigrants in the 19th century were from Guangdong province, Cantonese speaking people from villages in rice-growing districts along the Pearl River delta. They observed the lunar calendar, believed in Taoism, an indigenous religion, and followed the principles of Confucianism, a philosophy that gave moral order in their daily lives. Family was of primary importance. One's actions reflected one's family and their clan. Their last names came first in identifying themselves. In the villages their names were recorded in ancestral tables, going back thirty generations or more.
In 1884, Chan Wah Jack and several other Chinese residents decided that Napa's Chinatown needed a temple. They completed it in 1886 and it was named the Bei Di (God of the Big Dipper) Temple. The Chinese Free Masons, a fraternal organization, donated funds for the construction of the temple and for an ornate altar, which was decorated with elaborate carvings and covered with gold leaf. The temple was subsequently used as a meeting hall for the Free Masons.  When Napa's Chinatown was razed in 1929 for a proposed yacht harbor (which was never built), Shuck Chan, Chan Wah Jack's son, rescued the altar from the temple before it was destroyed and stored it in a warehouse he owned. In 1964, he donated the altar to the Chinese Historical Society of America in San Francisco, where it remains today.
Commemoration
The Chinese contributions to the Napa Valley have been only sporadically acknowledged or celebrated. Until recently, there were no monuments, plaques, or any other physical recognition of the Chinese who lived, worked, and died in Calistoga, St. Helena, Rutherford, or Oakville. Napa has two plaques on the First Street bridge and has recently installed a commemorative educational sign at the China Point Overlook park.
John McCormick discusses his book, Chinese in Napa Valley: The Forgotten Community that Built Wine Country with Jack Jue, Jr. at Napa County Historical Society's January 2023 presentation. 
Chinese History Timeline